Area Callback Tutorial
We sometimes want the robot to execute a sequence of actions anytime the robot is at the certain location in the map. That is where we can use Area Callbacks. An Area Callback allows the user to associate certain areas with specified actions, such as safety checks at the crosswalks, opening doors, and signaling the environment using lights and sounds.
See the Area Callback documentation for more information about what Area Callbacks are and how they work.
Example: Crosswalk Spot CAM Light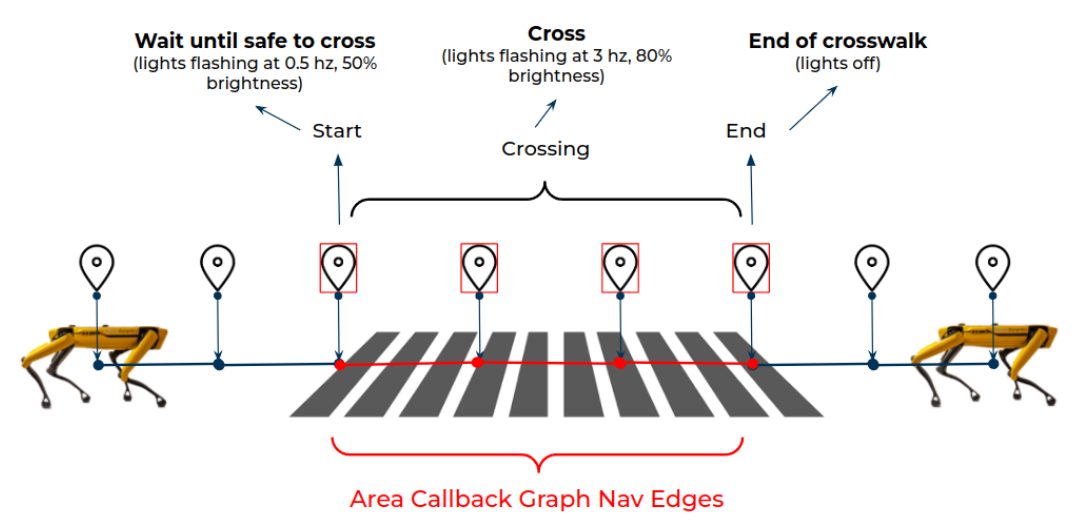 Below is an example that does the following:
the robot gets to the start of the callback (Area Callback region)

the robot waits and checks its surrounding for the forklift (ML example included as pseudocode), during which it flashes Spot CAM light at 1Hz / 50% brightness

once the robot confirms that the crosswalk is clear of forklifts, it starts crossing the region, during which it flashes Spot CAM light at 3Hz / 80% brightness

the robot reaches the end to turn off the Spot CAM light and proceed to complete the rest of the mission
Let's take a look at the example to see how that can be done. We will go over some of the important lines in the area_callback_crosswalk.py example.